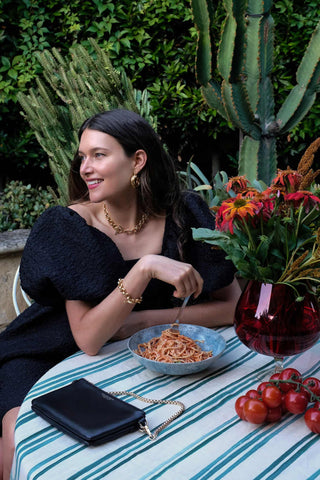 OUR APPROACH
Philosophy
DYLAN KAIN is an independant, female founded company working to reduce our impact on mother earth.
We anchor our design philosophy at the intersection of conscious consumption and sustainable manufacturing.
Collections are brought to life in small-batch production runs, with pre-order functionality ensuring we keep our footprint to a minimum – making only what's needed.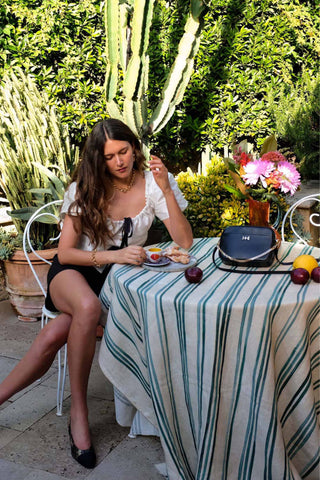 OUR MATERIALS
Better leather
We have long-been committed to supporting sustainable leather manufacturing across the globe, and we are proud members of The Leather Working Group (LWG). 
The LWG certifies leather manufacturing based on environmental performance in areas such as water and energy usage, air emissions and waste. We carefully select tanneries that have been audited and certified by the LWG with a Gold, Silver or Bronze rating, and therefore fulfil the highest standards within the industry.
At present, more than 90 per cent of leather used by Dylan Kain is sourced through tanneries with LWG ratings.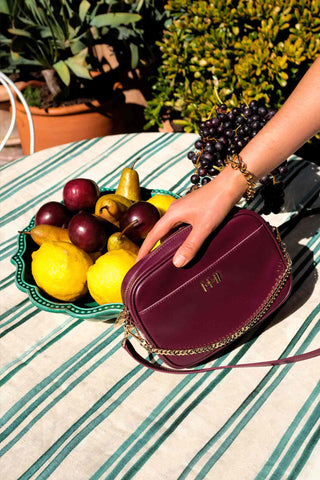 OUR VEGAN LEATHER
Wine leather
Introducing VEGEA - Vegan 'Wine Leather' bags.
We are excited to share our first Vegan collection made from Italian 'Wine-leather'. This bio-leather is created from the stems, stalks and seeds left over from wine-making. It's finished with an organic cotton backing and is beautiful, sustainable and made to last.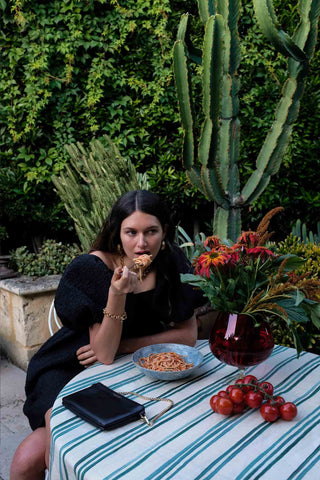 OUR PACKAGING
Compostable and biodegradable
DYLAN KAIN aims to tread lightly. We're building a brand that intends to leave the world a better place than we found it, and this mission extends beyond just our products. We have integrated environmentally friendly Bio Bags – compostable and biodegradable alternatives to plastic – and we remain committed to our continued search for more innovative and sustainable packaging solutions.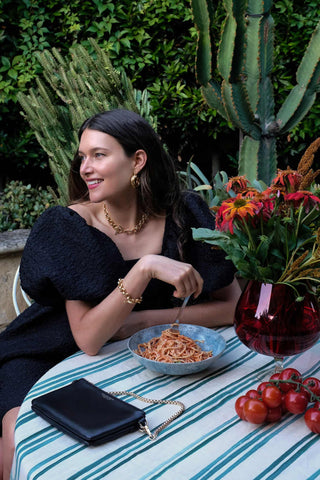 CULTURE
Our people
The way you do anything is the way you do everything, and we are proud of the close working relationship we nurture with our suppliers ensuring that all involved are treated fairly and respectfully along the way.

They are the spirit and soul of DYLAN KAIN, and we are resolutely committed to protecting all involved in our supply chain. We uphold rigorous standards of transparency and traceability with our suppliers, building confidence in their practices, as well as cultivating their confidence in us.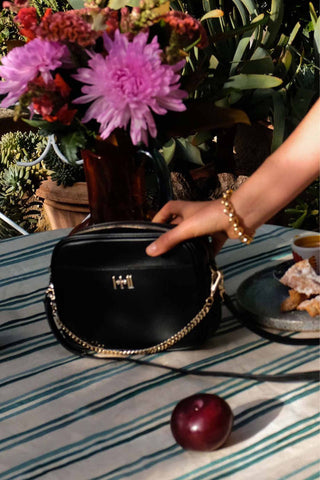 SUSTAINABILITY
Is an ongoing journey
Rather than a destination, and we are constantly researching new ways of working, new textiles, new advancements and better practices.

We will be updating this page regularly to communicate our findings, successes, and challenges.
Honesty is one of our core values, and by creating a transparent dialogue with you – our customer – we're also able to keep ourselves accountable.